The Huge Problem With U.S. Gymnast Simone Biles' Latest Commercial Spot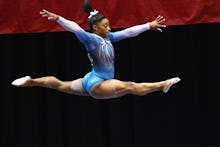 Simone Biles is a gymnastics goddess poised to dominate the Olympics in Rio this summer. Just this weekend, the 19-year-old American became the first woman to take home four all-around gold medals at Nationals, the New York Times reported.  
But her latest ad campaign has a sour side. 
Biles' ad spot for Hershey's "Hellos from Home" campaign launched Monday. At the start of the commercial, viewers watch as Biles strides into a gym and warm up while a voiceover track of her friends and coaches explains the things Biles has sacrificed to reach gymnastics greatness. 
"If you want to be an elite gymnast, you have to forfeit the proms, the football games, and all the other normal high school activities," a male voice intones, as a slo-mo shot pans over Biles performing an impeccable split jump on a balance beam. 
Friends and family members are then shown writing out letters of love and support and tucking them into Hershey's chocolate bars. The spot ends with an endearing shot of Biles squealing with delight as she opens a Hershey's-branded box full of photos and chocolate bars with supportive letters. 
Look at that grin! It's damn cute. 
(You can watch the full commercial here.)
Cuteness aside, the ad is problematic because Biles, a fit and healthy athlete who's at the top of her game, is aligning herself with a junk food brand. 
The not-so-sweet truth: Hershey's bars probably aren't a staple of Biles' diet. No doubt that proms and football games aren't the only thing the hard-working athlete had to sacrifice in her pursuit of perfect performances — she likely eats chocolate and candies in moderation at most. 
Since Hershey's is an official sponsor of the Olympics, odds are good they'll be pretty ubiquitous in athletes' social media feeds this summer. 
When good athletes promote bad nutrition
"[...W]ith this ad Hershey's associates itself with everything that is so inspiring about this young Olympian's story — her hard work, her sacrifices to achieve her dreams, and the outpouring of love and support she receives from her family and friends," Laura Nixon, Media Researcher at the Berkeley Media Studies Group, said in an email.
The Biles commercial is a form of brand marketing, she said, noting that brand marking is about creating positive associations with a brand. This is slightly different from an overt endorsement, but it's still problematic. 
"Even though the ad doesn't explicitly endorse any product, Hershey's is betting on the fact that it will drive brand loyalty — and sales — among a whole generation of young fans watching the Olympics." 
"With this ad Hershey's associates itself with everything that is so inspiring about this young Olympian's story"
Plus, an athlete's endorsement or alignment with a brand creates a slight health halo around the product, but most foods don't deserve it. One 2013 study found that roughly 80% of the food and drinks athlete endorse are caloric and nutrient-poor products, CBS News reported. Another study from 2016 found that 80% of the foods celebrities (singers, actors and more) endorse are caloric and nutrient-poor. 
Eating chocolate won't help anyone achieve a flawless floor routine, just like sipping Pepsi won't give an aspiring singer Beyonce's pipes, nor her dancing skills. And young children aren't capable of understanding the persuasive power of advertising until they're around eight years old, according to Common Sense Media. They'll take ads at face value.   
Biles may have earned a 9.9 on one of the world's hardest vaults, but the Hershey's spot definitely doesn't even stick the landing when it comes to helping America stay healthy. 
Read more: