Trans People Can Now Legally Get Married in Pakistan — With a Few Key Exceptions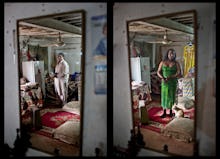 A congregation of 50 religious leaders, or Islamic clerics, in Pakistan declared that marrying transgender individuals is permissible under Islamic law on Monday, Reuters reported.
The religious leaders also announced that transgender people have full rights when it comes to Muslim burial ceremonies and Islamic inheritance law. 
But here's the catch: You have to have been "born" trans.
According to the Telegraph, the fatwa — a ruling on Islamic law — declared by the Tanzeem Ittehad-i-Ummat Pakistan said that only a "female-born transgender person having 'visible signs of being a male' may marry a woman or a male-born transgender with 'visible signs of being a female,' and vice versa."
But that's not the end of it. The language used to explain the religious edict is pretty damn unsettling, too. 
The document, as reported by Reuters, refers to cisgender men and women as "normal" people when detailing their right to marry transgender-born individuals of the opposite sex.
"Normal men and women can also marry such transgender people as have clear indications on their body," it states.
Despite the change in marriage laws in Pakistan, same-sex coupling remains illegal in the country due to anti-sodomy laws. 
Transgender people are one of the most marginalized communities in Pakistan. Due to discrimination against the trans community, they are often forced into sex work and subjected to sexual violence. Like in the U.S., that discrimination can lead to death.
On May 25, a man reportedly known for extorting money from transgender communities in Pakistan fired at a crowd of trans activists. Alisha — a 23-year-old trans woman who died after the shooting — was taking to a northern Pakistani hospital, where she was denied medical care because workers didn't know whether to put her in the ward for male or female patients.
But some progress has been made for transgender equality in Pakistan: In 2009, the Supreme Court of Pakistan recognized those who identify as "third gender" and provided them with the option to list it as their gender on their national ID cards. The same court also granted equal rights for transgender people in 2012. With this move, transgender people had the right to inherit property and the right to vote in Pakistan's elections. And in 2013, transgender Pakistanis were permitted to run for public office for the first time. 
Pakistan granting marriage rights to transgender people is a great step forward for trans rights. However, not unlike the United States, the country still has a long way to go when it comes understanding trans identities. 
Read More: