Cormac McCarthy Death Hoax: Pulitzer Prize-Winning Author Not Actually Dead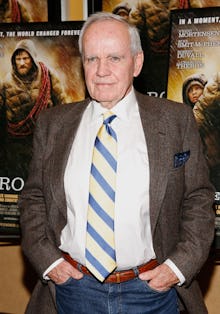 There was (almost) terrible news this morning as USA Today reported Pulitzer Prize-winning author Cormac McCarthy, who penned novels as critically acclaimed as they were bleak — including Blood Meridian, No Country For Old Men and The Road — had died at the age of 82.
Others, such as famous author Joyce Carol Oates, spread the story from there.
It was, however, only terrible news in another sense entirely, as head of publicity Paul Bogaards from Knopf Doubleday Publishing Group quickly confirmed to Entertainment Weekly the author remains with the living. McCarthy's publisher, Penguin Random House, confirmed on Twitter that "Cormac McCarthy is alive and well and still doesn't care about Twitter."
The root of the hoax was apparently a falsified Twitter account named after another of McCarthy's publishing affiliates, Alfred A. Knopf. The account appears to have been created recently, with no posts visible earlier than Monday:
Soon after people caught on, the hoax account posted "This account is hoax created by Italian journalist Tommasso Debenedetti. McCarthy is alive and well." Debenedetti is a well-known print and internet hoaxer who described his mission to the Guardian as revealing that "social media is the most unverifiable information source in the world but the news media believes it because of its need for speed."
So just like that, Twitter flipped from lamenting the loss of a great author to cracking up over the site's collective gullibility.
Correction: June 28, 2016