Jeremy Corbyn Loses Labour Party Vote of No Confidence in Brexit Aftermath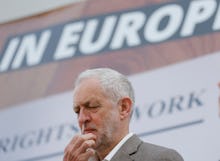 U.K. Labour Party leader Jeremy Corbyn — who has faced an "open mutiny," as NPR termed it, within his own party's ranks over his handling of the Brexit crisis — lost a vote of no confidence among Labour MPs on Tuesday, the BBC reported.
The MPs overwhelmingly voted against Corbyn, who was elected about nine months ago, 172-40. Four abstained from the vote.
Following the Brexit vote, a nonbinding voters' referendum proposing the U.K. leave the European Union, Conservative Party leader and Prime Minister David Cameron announced his decision to resign from office. A rebellion against Corbyn, his counterpart on the left, began soon after.
While both Cameron and Corbyn officially opposed the referendum, both men were widely accused of responsibility for the outcome of the vote, which will have far-ranging economic and political consequences. From Friday to Monday, stock markets worldwide lost more than $3 trillion in value, CNBC reported.
The referendum ultimately won by a slim 51.9-48.1% majority, despite polls showing the "Remain" campaign held a lead. Many interviewed regarding the outcome of the referendum told British media they either regretted their vote or thought it would not matter.
Cameron initially called the referendum as an effort to put down the Euroskepticism in his own party, apparently under the impression he could appease the anti-EU wing of his party without in fact changing the U.K.'s relationship to it.
"No prime minister in living memory has suffered a defeat of such cataclysmic proportions; none has been so thoroughly humiliated by his own electorate," Alex Massie wrote for the Chicago Tribune. "Cameron lost control of his party and then his country."
Meanwhile, the BBC reported Corbyn is feeling the heat for his history of Euroskeptic statements, as well as accusations he "sabotaged" the campaign to remain in the EU.
During the build-up to the referendum, "Labour mobilized its resources fairly late in the game, and voters in many Labour strongholds cast ballots in large numbers in favor of the Brexit," NPR reported. "Corbyn finds himself in the uncomfortable position of a pro-workers rights politician who's seen as out of touch with his rank and file."
The vote of no confidence will almost certainly doom Corbyn's future in the party. It also basically leaves both major political parties in Great Britain functionally leaderless, although former London Mayor Boris Johnson, a high-profile supporter of the referendum, is reportedly positioning himself to seize leadership of the Conservatives in Cameron's wake.
Read more: