Lea DeLaria Opens Up About How the AIDS Crisis Helped Make Her a Comedian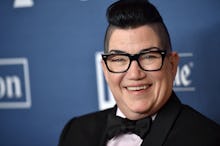 Actress Lea DeLaria is best known for her role as Big Boo on Orange Is the New Black — but she's been doing comedy since the 1980s. In fact, comedy was what helped her get by during the devastation of the AIDS crisis, even as people she loved were dying around her.
In a powerful piece for Esquire, DeLaria opened up about what it was like to live in Provincetown, Massachusetts, what was once "only a gay town, different from the rich, white gay town it is now" during the AIDS epidemic in the '80s. 
"Ronald Reagan, our sitting president, wouldn't even say 'AIDS' on national television," DeLaria explained, "So the LGBT community was left to deal with the crisis by itself — and that's exactly what Provincetown did."
She was performing stand-up and working as Provincetown's "first openly lesbian act" at the time, but DeLaria also found herself caring for gay men as they died of AIDS. "I volunteered to care for these ailing men who had come to Provincetown to live out their last days. Everyone did. When guys got to a certain point, they couldn't take care of themselves. I would cook them meals. I would help them with their medication. Whatever needed to be done."
DeLaria's had a few methods of coping with the loss and the frustrations — one was "doing a lot of drugs," but she also used stand-up comedy as a way of talking about her anger.
"It was ultimately the stand-up that kept me functional. It was there that I could truly rage. In front of laughing audiences, I could vent frustration over the fact that we were losing our greatest men: our artists, our thinkers, our composers, our actors, our citizens. For the longest time, it was only in a comedy club that people cared to hear it."
Here's some of DeLaria's more recent stand-up from before her OITNB days:
Read DeLaria's full piece on the Esquire website.
Read more: