Londoner Azmina Made a Man Apologize on Camera for Sexually Assaulting Her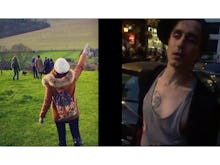 On Saturday, a woman named Azmina was walking the streets of Central London when a man walked up to her and allegedly hit her in the vagina. 
Although the man tried to run away, Azmina tracked him down and forced him to apologize to her on camera. She later posted the footage on Facebook, where it quickly went viral. 
"A man walked passed me [sic] and punched me in my vagina," Azmina wrote on Facebook. "I continued to try calling the police and we kept our eye on him and followed him from a safe distance. He told us to leave him alone, and at this point, I blew up and told him that he has no right to say that to me after grabbing my vagina in the middle of a street simply because he felt like he was entitled to my body."
According to Azmina, the man defended his actions by saying that he was drunk, and that she was making too much of a "big deal" out of it. Outraged, she pulled out her phone and demanded that he apologize on camera. 
"I don't know why I decided to take a video, but it was probably because I wanted to use this experience to share this one incredibly simple message — sexual harassment is never OK," Azmina wrote.
Azmina's post quickly went viral on Facebook, presumably in part because gendered street harassment is so prevalent. In a study commissioned by the advocacy group Stop Street Harassment, 2,000 American women were surveyed, of which 65% said they had experienced street harassment and 23% said they had been groped on the street. 
Not everyone feels safe calling out street harassers — and for good reason: It's not unheard of for women to face violence or even death if they publicly reject a man's advances. Yet Azmina's assertive reaction to her own assault serves as an empowering reminder of how social media can help shame attackers and amplify women's voices. 
*This story has been updated 1 pm, June 29.
Read More: