Starbucks' Viral Secret Rainbow Menu Is Healthier than Any Frappuccino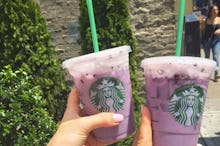 Planning to get an afternoon pick-me-up at Starbucks? You now have a literal rainbow of drinks to choose from, thanks to "secret" menu items.  
Passionfruit, orange, matcha or strawberry — no matter which flavor tickles your taste buds, there's a colorful drink to whet your whistle this summer. ROYGBIV never looked so good, Instagramming these bad boys isn't optional. 
The good news: They're actually healthier than Frappuccinos — a grande Mocha Frappuccino contains 400 calories when made with 2% milk. Meanwhile, all of the drinks below are under 300 calories if you opt for a Grande or a smaller order.
(Note: The drinks are not listed online because they are off-the-menu creations, and Starbucks has not evaluated Mic's calorie estimations. Fruit not included because you probably aren't fishing those soggy pieces out of your drink anyway. If you are, yay fruit.)  
The bad news: These drinks aren't listed on the menu. If you try to order a tall "Purple Drink," your barista might not know what you're asking for. List out the ingredients to your barista if you want your own colorful beverage — but no promises that Starbucks will spell your name right.
Read on for exactly how to order the Purple, Pink, Orange, and Green Drinks. 
How to order the Purple Drink
Ingredients:
Total calories: 
How to order the Pink Drink
Ingredients: 
Total Calories:
How to order the Orange Drink
Ingredients:
How to order the Green Drink
Ingredients:
Nutrition: 
Read more: