A Papa John's Employee Called an Asian-American Customer's Pizza Order "Ching-Ching"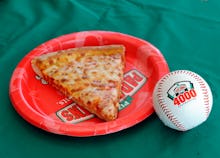 A Papa John's in Louisville, Kentucky, named an Asian-American woman's pizza order "ching-ching."
On Monday evening, Laura M. Cheifetz — a Presbyterian Church minister — tweeted a photo of a box of pizza that was a labeled "ching-ching." On Twitter, Cheifetz said she believed Papa John's labeled her pizza order with the derogatory slur when they heard her accent over the phone.
Papa John's customer support tweeted an apology to Cheifetz and said they would be working with the customer. 
In another tweet, they said they terminated the employee responsible for labeling the order with the anti-Asian slur. They also said that the racist incident doesn't represent the values of the pizza company.
This isn't the first time a Papa John's employee used racist slurs toward Asian-Americans.
On Jan. 6, 2012, Minhee Cho went to a Papa John's in New York City where they put her name as "lady chinky eyes" on the receipt. 
But using anti-Asian slurs isn't exclusive to just Papa John's. In 2013, a Korean-American woman from New Jersey sued CVS for $1 million when a cashier labeled her receipt as "Ching Chong Lee." When the woman contacted CVS customer relations, they emailed her saying the employee would be "counseled and trained" and didn't issue an apology. 
An employee at a Chick-fil-A in Irvine, California, named the receipts of two Asian-American UC Berkeley college students with "ching" and "chong."
But while Papa John's did apologize for their "mistake" on Monday, Cheifetz insisted that companies using "ching ching" isn't a mistake — it's an act of racism.
"Or it's just racism, Cheifetz said on Twitter. "Wish there were conduct standards and training instead of "it's a mistake." 
Read more: