VR Porn for Women Means No More 360-Degree Views of Men Laying On Their Backs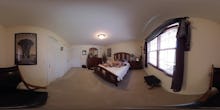 If you've watched Pornhub's VR porn you'd be hard-pressed to find any without a man laying on his back with the lady (or ladies) doing all the work. 
That's because this isn't porn created with women in mind. 
"I'm trying to capture the joy and pleasure, not necessarily the cum shot on the stomach," Angie Rowntree said in a phone interview. Rowntree is an adult film director and co-owner of Sssh.com, a website with porn for women (gasp!). 
Rowntree, together with PervOUT.com's Lance Hart, have a virtual reality film coming out in July. "Empowering Ava: A Virtual Reality Experience" is porn made for women. 
VR porn has been a man's, man's, man's world: Rowntree ditched the point-of-view approach traditionally seen in virtual reality porn, meaning you're not transported into someone else's body in the film. Most VR porn is shot from the man's point-of-view, and this is accomplished by hoisting the heavy equipment onto the male talent's chest (which also reportedly makes it hard to keep it up). You can look around the room, sure, but it's still confined to this one person's POV. 
But it wouldn't be nothing, nothing without a woman: Rowntree's movie will let you roam around the scene — the camera isn't strapped onto someone's body. No point of view. No heavy loads on the talent's chest. You are a spectator rather than an active participant.
In fact, the camera crew wasn't even in the same room as the actors when they shot the VR film. The duo learned their lines, learned their marks and just had fun with it, Rowntree said, while the crew was in another room out of sight watching everything go down on a monitor. 
"To be honest with you, the sex scene looks amazing because there wasn't a crew there. It had an element of realness that I had not seen before."
Women like porn, too: I asked Rowntree what the most frustrating thing about the porn industry is. "That everything is geared towards men," she said. "That they almost want to deny that women are an audience." 
But that's changing — Rowntree, Candida Royalle, Erika Lust, Jacky St. James and Cindy Gallop are all also paving the way for more realistic depictions of sex, and it's important to acknowledge women's interest in pornography — a survey found that more than a third of women watch porn at least once a week.
Rowntree said that when she started her career in porn in 1999, there was very little out there for women. She would go with her husband, who runs a BDSM site, to trade shows and wonder where all of the content for women was. People told her, "women don't want to spend money on porn." She didn't believe them. 
"We really try to focus on mutual pleasure, passion and joy in our movies," Rowntree said. "It's not one-sided. It's not just the male fantasy and the male gaze. It's about what women want as well. I'm not trying to flip the tables around completely. I think there needs to be a balance — two people really enjoying sex. It's as simple as that." 
Damn right. 
And a more realistic approach to porn (considering both men and women in its creation) is important — a recent study revealed that 53% of boys and 39% of girls believed online pornography to be a realistic depiction of sex, according to the Guardian. 
"I'm trying to capture the real thing," Rowntree said. "The glint in the eye. The laughter. Not enough porn has laughter in it."
Read more: