Study Finds Women in Low Necklines More Likely to Get Job Interviews, World Has Zero Chill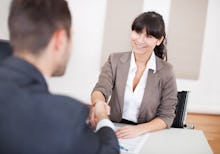 In this pink-taxed, gender-gapped world, a new study finding has added insult to injury: Women wearing revealing necklines got job interview offers 19 times more often than women who applied wearing more conservative outfits, according to Phys.org.
For the study, applications for two women with similar looks and almost identical resumes were sent to the same 200 accounting jobs and 200 sales jobs over the course of three years, according to Phys.org. The only difference? Half of each woman's applications showed her in a low-cut dress and the other half in an outfit with a higher neckline.
For the "customer-facing" sales jobs, as researcher Sevag Kertechian described them to Phys.org, the application that had the more revealing photo got 62 more interview offers than the conservative photo. For the "office-based" accounting job, the revealing photo earned 68 more interviews. 
"The results were quite shocking and negative but not necessarily surprising — they show we need to conduct more research," Kertechian told Phys.org.
Color us unsurprised, as well.
Read more: