Kim Kardashian West Just Released New Fourth of July Kimojis, And They Are NSFW AF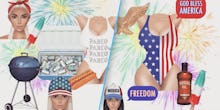 Fourth of July is low-key the best holiday of all. Food, summer, booze, fireworks, more food and — if you're lucky — a rowdy sexting session that leads right into a good old-fashioned Independence Day blow job to cap the day off! What's not to love about this scenario?
Which brings us to sexting queen Kim Kardashian West.
In a new Fourth of July-themed update to her Kimoji app, there are a number of festive and sexy emojis to choose from — including a pair of NSFW popsicle and hot dog emogifs that are quite suggestive of fellatio!
You know what? Finally.
As some people on Twitter have pointed out, there is nary a good emoji available to properly represent blow jobs whilst sexting. Sure, you can always hit 'em with the "face with open mouth" + "eggplant" combo, but that's boring. These new Kimogifs take the guesswork out of the BJ sext and cut right to the chase — all with a festive Fourth of July twist!
God bless America, and God bless Kimberly "Kim" Kardashian West.
Read more: