UPDATE: Istanbul Atatürk Airport Attack Leaves Up to 50 Dead, 60 Injured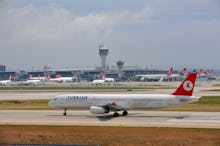 Update: Tuesday, June 28, 2016 at 11:33 p.m.
Authorities have confirmed 36 deaths and at least 147 wounded from the attack on Istanbul Atatürk Airport on Tuesday, with a definite casualty count unclear as victims are treat at hospitals and authorities work towards a more thorough accounting. For updated coverage on the attack, please refer to this article.
Original coverage follows below:
Up to 50 people died and 60 others were injured following two explosions at Turkey's Istanbul Atatürk Airport Tuesday. Authorities say the blasts were the result of two men detonating devices on their bodies, Reuters reported.
Daily Sabah correspondent Ragip Soylu reported two men approached the entrance of the airport, firing at civilians and engaging in a short gun battle with security personnel before triggering explosives.
Images allegedly from the scene of the explosion showed major damage at the facility, although these photos could not be independently verified by Mic.
Turkish officials have already suggested the Islamic State group is to blame for the assault, according to the Associated Press. However, New York Times ISIS and al-Qaeda correspondent Rukmini Callimachi countered ISIS has not yet taken formal responsibility for the massacre, while others pointed out the group is notorious for claiming credit for terror attacks they have had no direct role in orchestrating.
According to FlightRadar24, the airport initially continued receiving and dispatching flights, but has since begun diverting planes to other airports. BuzzFeed News Middle East correspondent Borzou Daragahi reported many passengers were left stranded as air traffic shut down.
This is a breaking news story and will be updated as more information emerges.