Watch Drake Struggle During His First Day of Work at Kinko's in This Deleted 'SNL' Sketch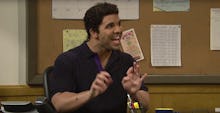 Drake just can't seem to catch a break on his first day at the job. In a deleted scene from the Canadian rapper's Saturday Night Live performance, Drake Derek is the new guy at Kinko's, and struggles with learning the new office lingo in the most relatable way ever. 
At first, it all seems to be going just fine as Derek exchanges your typical office banter with Kirk and Fern. But things become suddenly weird once it's apparent the office has only one thing saving it from becoming the most boring office job in history: a bizarre secret language.
The team even appears to have specific hand motions to coincide with their nonsensical replies, which include "Okay, coooo!" "DOPE. Dot BIZZness!" and "Snap, crackle, pop! NOICE KRISPIES!" But when Drake tried to chime in with the office slang, he apparently failed miserably — causing for some awkward tensions to occur within his first mere minutes of working at the store. 
It's just another skit which proves Drake's SNL performance was one of the best in the show's latest season.
Read more: