The Secret, Tragic Meaning of Cersei Lannister's Crown — From the Person Who Made It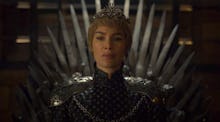 (Editor's note: Major Game of Thrones season six spoilers ahead.)
The season six finale of Game of Thrones saw Cersei, by the end of the episode, ascend the Iron Throne — but only after losing her last surviving child and blowing up almost everyone she knows. And the crown that Qyburn puts on her head in her final scene of the season has a secret meaning behind it that perfectly captures her state of mind.
According to Game of Thrones costume designer Michele Clapton, Cersei's silver and gold crown represents her loneliness and the divisions in her family. All her children are gone, her father was murdered by her younger brother — she doesn't seem to have much left to live for besides herself.
"I chose to make it in silver with just wisps of gold to try to show her isolation, her mental disentangling from her family," Clapton told Vulture on Tuesday. "There is no reference to [her late husband, Robert] Baratheon; there is no need anymore. She doesn't have to try and prove a link. The center of the crown is the lion sigil abstracted — its mane represents the Iron Throne, her desire. She has made it her own — she is reborn."
Clad in a dress that looks more like armor, Cersei is wearing no expensive fabrics or fancy jewelry — she's no longer the wife and mother she was when we first met her as queen. Now she's just a ruler.
"She is dead inside," Clapton told Vulture. "There can now be a clarity to her desire: power, the throne, on her terms."
Read more: