41 Confirmed Dead After Terrorists Open Fire, Detonate Bombs at Istanbul Atatürk Airport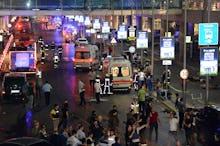 At least 41 are dead, and a minimum of 230 others are wounded following an attack on Turkey's Istanbul Atatürk Airport on Tuesday, according to the Associated Press.
Authorities said up to three men, at least one of whom may have been armed with an AK-47 according to a journalist with ABC, assaulted the airport entrance, shooting at civilians and security personnel and throwing grenades. They then detonated explosive devices, killing themselves and others.
A Turkish official told news agencies on Tuesday that almost 50 people may have been killed; however, by Wednesday morning Eastern time, only 41 had been confirmed by authorities. Of those 41 deaths, at least 23 were Turkish citizens and at least 13 were foreign nationals, according to an official.
It was not immediately clear if the death toll included the terrorists, all of whom reportedly died during the attack.
The total number of confirmed injuries was over 230 as of Wednesday morning.
Turkish officials initially said they suspect the perpetrators are linked to the Islamic State group, the infamous terror organization which has seized control of large swathes of Iraq and Syria, launched large-scale terror attacks in Brussels, Belgium, and Paris, and reportedly inspired a massacre at a gay nightclub in Orlando, Florida, earlier this month.
However, New York Times al-Qaeda and ISIS correspondent Rukmini Callimachi noted the group has not formally claimed credit for the assault, and noted scant signs of the group taking responsibility.
According to the Long War Journal's Bill Roggio, likely culprits include ISIS or Kurdish nationalists operating under the (banned in Turkey) Kurdistan Workers' Party (PKK) or one of its militants offshoots, the Kurdistan Freedom Falcons (TAK).
Though Roggio reported on Tuesday that 34 had been killed, that number rose to at least 41 on Wednesday, according to the Istanbul Governor's Office. U.S. security officials, however, also pointed to ISIS as the likeliest culprit.
The government has ordered a full-scale media blackout "on the distribution inside Turkey of any material concerning the aftermath and investigation of the explosions at Istanbul's Atatürk Airport. The ban includes images that can lead to fear, panic, chaos, helps the aim of terror organizations, shows the moment of the explosion, its aftermath, anyone dead or injured or anything that will impede the investigation including naming suspects."
June 29, 2016, 9:57 a.m. Eastern: This story has been updated.