Chilling Video Appears to Show the Moment a Suicide Bomber's Vest Detonated in Istanbul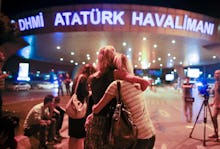 Security cameras appear to have captured the horrifying moment a suicide bomber detonated his vest inside Turkey's Istanbul Atatürk Airport on Tuesday in an attack that killed at least 41 people. 
The video appears to show one of the alleged suicide bombers falling to the ground after being shot, shortly before an explosion engulfs the frame. 
CNN shared the footage on its YouTube channel Tuesday night.
(Editor's note: The video below contains graphic content. View with discretion.)
According to authorities, as many as three men were involved in the attack, who they say may have also shot at civilians, had an AK-47 and thrown grenades before detonating explosives.
June 29, 2016, 4:53 p.m. Eastern: This story has been updated.