The Wasabi Latte Is the Spiciest Way to Jumpstart Your Mornings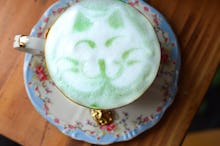 The concept of jumpstarting your day has just been taken to new heights. One coffee shop in New York City is adding wasabi, the spicy horseradish-like Japanese plant, to its coffee lattes to kick things up a notch. 
To create the drink, Byeon Ock Hyeon, the owner of Round K Cafe, whips up a wasabi syrup made by boiling wasabi paste ("similar to the kind you eat with sushi," he said), sugar and water together until the mixture is thick and green.
He then uses the syrup to make the latte two ways: In the first method, Hyeon pours a heaping serving of the wasabi syrup into the bottom of a cup, pours in a shot of espresso and tops it off with foamed milk. The result is a milky-but-spicy, light-green latte with a pleasant amount of heat. 
For those who prefer a more coffee-forward drink, Hyeon also makes a version of the latte in which he pours an espresso shot into a cup before adding a foamed milk and wasabi syrup mixture. This version looks like a standard latte and has a much more prominent coffee flavor. 
Hyeon said he makes the lattes with both regular milk and soy milk, but recommends that people order the soy version. "It tastes better with soy milk because soy milk has a nutty flavor that works really well with the wasabi," he said. For apprehensive customers, Hyeon will serve a shot of the wasabi syrup on the side. 
Byeon was inspired to combine wasabi and coffee after noticing the surge of wasabi-treated snacks like wasabi peas and sweets like wasabi Kit Kats and wasabi ice cream. "To my palette, wasabi has always been quite creamy, so I figured it would work well in a latte." 
As he began to experiment with a recipe, he found that the "shooting heat" of the wasabi actually works to enhance the flavor of the coffee. His inkling that wasabi's creaminess would pair well with coffee was spot-on.
After a month of test trials, Hyeon finally found a recipe that was spicy with a prominent wasabi flavor (thanks in part to the full tablespoon of wasabi he puts in each drink), but still balanced and sippable.
Round K Cafe has only sold the latte for a couple of weeks, but customers have been into it so far. "Most people are pleasantly surprised by the combination," Hyeon said. And at $4.50 a cup, the drink is pretty affordable — at least as far as trendy coffees go. Other hip coffees have been sold at as much as $16 a cup. 
Included in the wasabi latte's price is some stellar latte art that doesn't require any food coloring to be show-stopping.
Read more: