Bernie Sanders' Political Revolution Just Experienced Another Setback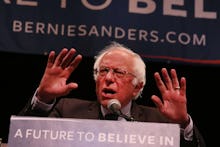 Sen. Bernie Sanders' political revolution faced a setback Tuesday night, when another one of his endorsed candidates lost a Democratic congressional primary, this time in upstate New York.
Eric Kingson, a professor at Syracuse University whom Sanders campaigned alongside last week, lost the primary by a 16-point margin to Colleen Deacon, a former Capitol Hill aide backed by New York's two Democratic senators.
The 70-year-old college professor was the first congressional candidate Sanders held a campaign event for in 2016.
Yet Sanders' attention to the race did not help increase voter participation. In fact, the primary saw almost record-low turnout, according to Syracuse.com.
To be sure, Tuesday night's New York primary was not a total loss for Sanders.
Zephyr Teachout, a progressive candidate who Sanders also backed, won a congressional primary in New York's Hudson Valley Tuesday night.
But Teachout was already a favorite in the primary — even before Sanders endorsed her earlier this year.
She carried parts of her congressional district when she ran a strong primary challenge to Democratic Gov. Andrew Cuomo in 2014.
And unlike Kingson, Teachout was backed by establishment figures in the New York Democratic Party — including Sens. Chuck Schumer and Kirsten Gillibrand — making her less of an outsider candidate than other so-called "Berniecrats."
Still, Kingson is the second Sanders-endorsed congressional hopeful to lose a primary in 2016 — yet another sign of the challenges Sanders will face to keep his revolution together when he himself is not on the ballot.
Earlier this month, Nevada congressional hopeful Lucy Flores also saw a double-digit loss to an establishment-backed candidate.
Both candidates were running in districts presumptive Democratic presidential nominee Hillary Clinton carried in the primary.
And both may foreshadow a disappointing result for Sanders' supporters in Florida next month, when Sanders-backed candidate Tim Canova will look to unseat Democratic National Committee Chairwoman Debbie Wasserman Schultz. Wasserman Schultz's district backed Clinton with nearly 70% of the vote in the presidential primary — meaning it's unlikely to be fertile territory for a Sanders-endorsed primary challenger.
Read more: