Christian Siriano Confirms He Will Likely Dress Leslie Jones' For 'Ghostbusters' Premiere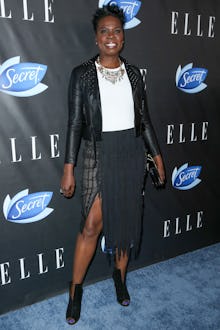 Leslie Jones, the Saturday Night Live cast member who is one of the four comedians starring in the all-female remake for Ghostbusters, needs a dress to wear to the premiere. And much like other actresses who aren't sample-sized, from her co-star Melissa McCarthy to Rebel Wilson and Octavia Spencer, that's a problem.
Many designers aren't exactly jumping with joy over the idea of dressing a woman who's above a, say, size four. As McCarthy told Redbook in 2014, "Two Oscars ago, I couldn't find anybody to do a dress for me. I asked five or six designers — very high-level ones who make lots of dresses for people — and they all said no."
Now, Jones is facing that exact issue, but rather than stay quiet, she went on social media. 
Jones tweeted Tuesday to her more than 91,000 followers: "It's so funny how there are no designers wanting to help me with a premiere dress for movie. Hmmm that will change and I remember everything."
Then, 30 minutes later, a designer swooped in to save the day. 
Christian Siriano, the winner of season four of Project Runway who has designed gowns for curvy celebrities like Christina Hendricks and Danielle Brooks, responded to Jones' tweet with a raised hand and a wave. 
In response, Jones gave him an approving "YAAAAAASSSSSS." 
Entertainment Weekly and USA Today reported on the exchange, writing that a collaboration with the two looked to be on the horizon. And in an exclusive interview with Mic, Siriano revealed that yes, he will likely be designing a dress for Jones at the upcoming Ghostbusters premiere. 
"I love Leslie and I'm a huge fan of her work," Siriano said. "I can't wait to create something special for her to wear. Hopefully, I will see her in my studio this week to make something new and exciting for her to wear. I support all women no matter age or size!"
Of all the designers who could volunteer to create a gown for Jones, Siriano is perhaps one of the most qualified, given he does have his own line at the plus-size retailer Lane Bryant and has even designed a plus-size wedding gown. 
"It shouldn't be exceptional to work with brilliant people just because they're not sample size," Siriano tweeted on Wednesday morning. "Congrats aren't in order, a change is."
Now that the dress is likely taken care of, all we have to do is wait for the big day (which should be sometime soon since Ghostbusters premieres July 15), and see what sort of masterpiece Siriano comes up with. 
Judging by the looks he's created for Hendricks...
Jones is in excellent hands. 
Read more: