California Will Vote on the Legalization of Recreational Marijuana in November's Election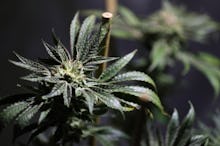 This November, when California residents cast their ballots in the presidential election, they'll also vote on whether to legalize the recreational use of marijuana for adults 21 and older. The vote comes two decades after California became the first state to legalize medical marijuana, when voters passed Proposition 215 in 1996. 
If Californians vote yes, the state will join four others — Alaska, Colorado, Oregon and Washington — which have already legalized recreational marijuana.
According to ABC News, a vote in favor of legalization would also mean one in six Americans lives in a state with legal marijuana sales.
ABC reported the legalization of recreational marijuana would increase the state's revenue by $1 billion in addition to saving the state government millions more in costs associated with police, courts and correctional facilities. 
However, as we've seen in Colorado, the welcome economic boost that comes with legalization is not without its consequences, especially for people of color. According to the Guardian, black people are still 2.5 times as likely to get arrested for marijuana-related offenses in Colorado, and just one of Colorado's 424 weed dispensaries is owned by a black woman. 
Still, Jason Kinney, a political strategist campaigning for the initiative, said in a statement that he feels hopeful about the outcome of the vote, ABC reported. 
"Today marks a fresh start for California, as we prepare to replace the costly, harmful and ineffective system of prohibition with a safe, legal and responsible adult-use marijuana system that gets it right and completely pays for itself," Kinney said.
Read more: