'American Horror Story' Releases Season 6 Logo — What the Hell Does It Mean?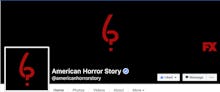 While American Horror Story has been renewed for a sixth season, you wouldn't know it based on the publicity for the new season. Because, frankly, there hasn't been any. Creator Ryan Murphy has been mysteriously quiet about the forthcoming season, resulting in a plethora of fan theories about where the anthology series will move to next (Area 51, for example, sounds like a fun detour). 
Now, however, we've been given our first glimpse into the new season, as the series has revealed its new logo on its social media platforms. It's a combination of a six and a question mark. It's also red. Yeah, that's about it. 
Other details about the new season have been scarce, so this will have to do for now. It certainly spurred some conversation on Twitter, even if they were mostly desperate pleas for more information. 
Hopefully, Murphy will reveal more on the new season in due time — especially since the seasons typically premiere in October. Otherwise, we might be looking at American Horror Story: Unexpected Cancellation.  
Read more: