People in Britain Are Wearing Safety Pins to Combat Post-Brexit Hate Crimes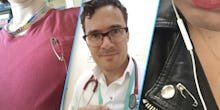 In response to hate crimes in Britain spurred by the nation's landmark vote to leave the European Union on Friday, a decision known as Brexit, Twitter user @cheeahs asked people to wear safety pins to combat the violence — and it's become a viral campaign.
Why safety pins? Britain's National Police Chief Council has experienced a 57% increase in reported hate crimes since Brexit. In light of the rising tension, Allison tweeted on Sunday that safety pins can be a symbol for safety amid violence: "A safe person to sit next to on the bus, walk next to on the street, even have a conversation with," she wrote when proposing the idea on Sunday.
Since Allison tweeted the idea, a number of Twitter users tweeted selfies wearing safety pins to show "solidarity" with those who've been targeted by hate crimes triggered by Brexit, a decision some believe was caused by a margin of the population's fear of refugees.
Critics of the #SafetyPin campaign, including Piers Morgan, said wearing a safety pin isn't a sufficient way to prove someone isn't racist. "What if all the racists now start wearing a #SafetyPin to confuse everyone?" Morgan tweeted on Wednesday.
Twitter user @Conjob123 said it's another excuse for people to take selfies and make national news about them.
But the campaign is already spreading love in Britain, according to Samantha Gouldson's tweet.
In a 52% to 48% vote, Britain became the first nation to decide to leave the 28-member EU last week. The decision was a victory for the nation's "Leave" campaign, which argued that allowing refugees into the U.K. under EU regulations would spur terrorism. The Guardian called the campaign a "British blend of Donald Trumpism." The "Remain" campaign warned that Brexit would cause a financial crisis, slow global growth and perpetuate Western right-wing populism.
Read more: