Calum McSwiggan, Gay YouTube Star, Faked Gay Bashing Story, According to Sheriff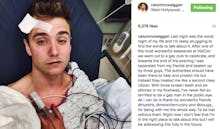 Out gay YouTube star Calum McSwiggan, 26, claimed he was the victim of a targeted attack Sunday night outside a West Hollywood gay bar. The West Hollywood sheriff's department, however, said it is "unable to substantiate" that story — and have a very different story to tell.
McSwiggan "had no visible injuries" and was arrested "after deputies observed him vandalizing a car" on the 8900 block of Santa Monica Boulevard, according to a statement from the sheriff's department given to Mic over the phone. When he was placed in a cell by himself in the station, personnel say McSwiggan "injured himself with the handle and receiver to a payphone inside the cell."
In his booking photograph, McSwiggan displays no visible injuries. The Los Angeles County Sheriff's Department said the photo was taken before authorities observed McSwiggan injuring himself. 
However, this isn't how McSwiggan recalled the story in an Instagram post published Monday. He said three men had followed him at a club and beat him up. In the photo, McSwiggan is seen lying down in a hospital bed. He called the experience "the worst night of my life." McSwiggan said authorities "treated me like a second-class citizen" and that he was left with "three broken teeth and six stitches in my forehead." 
McSwiggan was in town for VidCon. His friend, Riyadh Kalaf, corroborated his version of the story in a series of tweets. But, notably, he also said he did not personally witness the attack.
Other friends, including YouTubers Melanie Murphy and Doug Armstrong, also addressed the story on social media. 
On Tuesday evening, Khalaf responded to reports doubting the veracity of McSwiggan's story, saying "he didn't fake it" and that he saw McSwiggan "crying after the attack."
Since news broke that the sheriff's department could not substantiate McSwiggan's story, people on Twitter have expressed disgust with the situation. 
Currently, McSwiggan and Khalaf are not speaking about the incident, claiming they cannot do so legally. McSwiggan has not responded to Mic's request for comment.
This story will be updated as more information becomes available. 
Read more: