The NRA Is Spending $2 Million on Ads for Donald Trump Hitting Hillary Clinton on Benghazi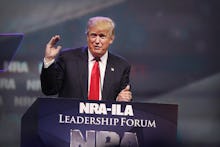 The National Rifle Association will spend $2 million on a Benghazi-themed ad urging voters to vote for presumptive Republican nominee Donald Trump — one of the biggest expenditures by an outside group on Trump's behalf so far, USA Today reported Wednesday.
In the 30-second ad, Mark Geist, a Trump supporter and Marine Corps veteran who survived the attack on the U.S. embassy in Benghazi, Libya, tells reluctant Trump voters to back the businessman in November. Clinton was secretary of state at the time of the attack.
"A lot of people say they're not going to vote this November because their candidate didn't win," says Geist, who endorsed Trump in February. "Well, I know some people who won't be voting this year either. Hillary as President? No thanks. I served in Benghazi. My friends didn't make it. They did their part. Do yours."
The ad will run in the battleground states of Colorado, Florida, Nevada, Ohio, Pennsylvania and Virginia, USA Today reported.
The $2 million expenditure finally puts Trump on air in battleground states, where presumptive Democratic nominee Hillary Clinton is outspending Trump $26 million to $0, according to an NBC News analysis.
The ad also comes a day after House Republicans released their findings from a two-year investigation on the attacks in Benghazi that found no new evidence of Clinton wrongdoing in the attack that led to the death of four Americans.
Following the report, Clinton said, "I think it's pretty clear it's time to move on."
Read more: