Coffee Plus Seltzer Makes an Espressoda, the Bubbly, Caffeinated Drink Worth Sipping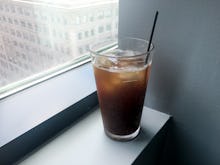 Attention coffee addicts: There's a new way to get your caffeine fix. 
Brewing espresso over seltzer creates a whole new bubbly beverage. This drink is not to be confused with a coffee tonic, a special tonic water concoction offered at many specialty cafes around the world. 
Experts at Illy explained that the body and viscosity of the espresso increases when the carbon dioxide from club soda and the espresso come together as one. (Magic!) The carbon dioxide from the soda water creates a more velvety foam — aka the best part of a latte. Add a little vanilla syrup and it'll balance the slightly acidic soda and the subtly bitter espresso, creating a flavor all its own. 
Check this shit out:
Can you make this masterpiece at home? Indeed! Here's what you need to do, according to the coffee pros from Illy. 
How to Make an "Espressoda"
Ingredients: 
Preparation: 
Step 1: Pour ice and club soda into a glass, leaving some room at the top. Add the vanilla syrup and stir to combine. 
Step 2: Brew espresso and pour over the club soda. Chill if desired. (But really, always chill.) 
Want to get boozy and caffeinated at the same time? You can have it all. For a boozy treat, add 1/2 ounce vodka or rum to the bottom of the glass before making your Espressoda. 
For those who've got a need for speed — the espressoda's got more caffeine than a Starbucks #PinkDrink. Bubbly iced coffee might just be your new afternoon pick-me-up. 
Read more: