'America's Got Talent' Performance From Brian Justin Crum Earns a Standing Ovation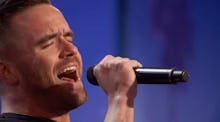 San Diego native Brian Justin Crum showed up on the America's Got Talent stage Tuesday night — and wowed the crowd with both his rendition of Queen's "Somebody to Love" and the heartfelt story that preceded the performance.
Crum, 28, told the judges that growing up he was bullied for being gay and overweight, and eventually was forced to move in with his aunt and uncle in Oregon for a "fresh start."
But Crum was all smiles when he took the stage for a powerhouse performance — and he blew everyone away.
By the end of his performance, Crum had all the judges (even Simon Cowell) on their feet.
Judge Heidi Klum summed it up perfectly when she told Crum, "I just love that you just showed all those people who bullied you. ... You really gave everything and I felt that."
Crum made it through the the next round with four "yes" votes.
See the whole performance here:
Read more: