Prince's 'Purple Rain' Coat Hits the Auction Block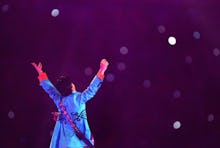 The jacket formerly known as Prince's is heading to auction.
The purple motorcycle jacket, along with the iconic white ruffled shirt that made sartorial history when Prince paired them together in 1984's Purple Rain, is being sold on eBay alongside 1,700 other pieces of pop culture memorabilia in a star-studded auction set to begin on June 29.
The three-day event, known as Hollywood Auction 83, will feature "...articles of clothing and costumes worn by Alicia Keys, Britney Spears, Marilyn Monroe and Daniel Craig," in addition to a wide array of movie posters and photos, according to The Hollywood Reporter.
Bidding for the the ruffled white silk shirt will begin at $3,000. The price for the motorcycle jacket will start at $6,000. 
The late pop icon, who passed away suddenly from an alleged opioid overdose in April, had no will. As a result, the battle over his estate in the wake of his death, which has an estimated value of over $300 million, has turned acrimonious. 
Citing an anonymous source, CNN reports that, "...the initial meeting between the siblings [to decide what to do with the singer's assets] was contentious and ended in shouting."
"It's one thing to divvy up dollars among six people, but how do you divide a guitar collection, or 'Purple Rain,' or an unfinished piece of music, among heirs?" CNN Legal Analyst Danny Cevallos said. "And what if they don't agree on how to use or sell those things?"
Read more: