After Istanbul Attack, Cenk Uygur Explains Why Hating Muslims Doesn't Make Any Damn Sense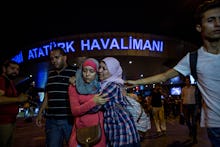 Cenk Uygur, the host of web-based news show The Young Turks, said it's counterproductive to blame Muslims for the terrorist attack at Istanbul International Airport. 
On Tuesday's episode of the show, Uygur, who is a Turkish-American, argues that making blanket accusations against the Muslim community is "preposterous and counterproductive" since they are often the victims of terrorist attacks. The attack in Turkey, which Prime Minister Binali Yildirim said was carried out by the Islamic State, killed at least 41 people and injured at least 230 more on Tuesday. Currently, no group has claimed responsibility for the attack.
"To insult the families of the victims, as they mourn their deaths by saying 'Muslims did it,' when they were the victims, is preposterous and ridiculous," he added.
Uygur said we shouldn't associate the entire Muslim community with extremism.
Uygur conceded that Islam contains a strain of fundamentalism. But he insisted that the small percentage of extremists do not represent all of Islam. Uygur explains that the current level of radicalism didn't exist over 40 years ago. He said that military intervention from countries like the United States and Western-backed dictators contribute to its rise.
"Sometimes culture does create this. Again, not the whole culture, a part of the culture," Uygur said. "A culture with this degree of fundamentalism did not exist in the Muslims world anywhere near this degree 40 years ago, before the Saudis and Americans, because they wanted the Soviets to fight against Muslims [in Afghanistan]. They thought that they could radicalize Muslims to fight the godless Soviets, so we spread propaganda."
Here are some of the best quotes from Uygur's segment:
Watch Cenk Uygur's comment in full:
Read More: