If Young Metro Don't Trust You: Charting the Rise of Beat Tags From Bangladesh to Atlanta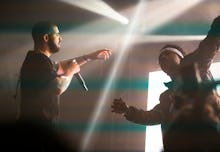 In February, Kanye West unveiled his Yeezy Season 3 collection alongside his seventh album, The Life of Pablo, in an ostentatious display of Kanye-ness at Madison Square Garden. Six minutes in, the world heard Pablo's second track, "Father Stretch My Hands Pt. 1," for the first time. Following the intro's ebullient choir, the beat dropped out to unveil one phrase, unadorned: "If Young Metro don't trust ya, I'm gon' shoot ya...," echoed the woozy mutter of rapper Future.
On command, the crowd ignited, coalescing around this singular moment of pop cultural zeitgeist. It was just a soundbite and yet it was as if Oprah had gifted a new Rolls Royce to every person in the room, promising us something thrilling yet familiar, a product of high value. The girl to my left turned to her friend and enthused: "Oh, shit! Kanye let Metro tag his beat!"
Indeed, the phrase that thundered through the Garden that day was a meme-worthy producer's tag belonging to 22-year­-old Atlanta­-based beatmaker Metro Boomin', one of hip-hop's most sought­-after new talents, architect of hits like Future and Drake's "Jumpman." He's used beat tagging to become a household name amongst hip-hop fans. As many appeared to note, "Father" was the first time West, a ­hip-hop auteur known for employing numerous producers to tweak a single track,­­ had allowed another beatmaker to "tag" one of his songs.
That tag's presence on The Life of Pablo is emblematic of a sea change in mainstream hip-hop — one where producers are beginning to assert their star power and positioning their names as having an equal draw to that of the rappers. Everything about the economics of today's hip-hop culture suggests this practice will only become more commonplace. In fact, beat tagging may be the tactic that finally grants hip hop producers the recognition they've long deserved.
A brief history of the beat tag
The popularization of beat tagging can be traced in earnest to the late '90s, as a stepchild of ad­-libbing. 
Producers of that period, like Swizz Beatz and Just Blaze, would often shout their names over their productions as a way of punctuating a rapper's flow. Others like Pharrell Williams and Timbaland would sing and rap on many of their productions for other artists, asserting their presence as creators. Casual listeners may not have noted their contributions otherwise, since beatmakers of the late '80s and early '90s like Easy Mo Bee, Ski Beatz and Clark Kent were often relegated to "hired gun" status — studio musicians in the service of their far more well­-known rapper counterparts.
"I didn't even knew what being a producer meant," explains the producer Bangladesh of his experience as a young hip-hop fan growing up in Des Moines, Iowa. It wasn't until his late teens in the mid '90s that Bangladesh,­­ who has worked with Beyonce, Meek Mill and numerous others,­­ first discovered the term "producer" and figured out what one actually did. "When OutKast and R. Kelly first came out," he continues, "I started wondering, 'Who made the beat? Who did that?' and I started reading credits."'
After producing Ludacris' breakout hit "What's Your Fantasy" in 2000, Bangladesh's career crested when he produced Lil Wayne's "A Milli," the 2008 hit that is perhaps the rapper's signature song. In a moment that now appears prescient, "A Milli's" introductory measure consists of an orchestral swoop, accented by synthesizers and a male voice asserting, "Bangladesh!"
"'Bangladesh' was just a word I'd use to describe cool things,'" the beatsmith, who until 2004 had produced under his government name, Shondrae, recalls. "In '04, I was working on music for [rappers] 8­Ball and MJG and I started doing ad libs where I was saying 'Bangladesh!' 'Bangladesh!' I took one that had this weird filter on it and kept that on a bunch of the tracks on that album just because it sounded cool."'
It quickly caught on. 
"I had no idea what I was doing, but when those songs played on the radio, you would hear 'Bangladesh!' People started being like, 'Who is Bangladesh?' It became a thing."'
As "A Milli" became one the defining rap songs of the late aughts, its popularity also became a tipping point for beat tagging. "That's when everybody started tagging their beats," asserts the producer, whose tag has also appeared on hits for for Kelis, Rihanna and Nicki Minaj. "'A Milli' inspired a generation of producers. The tag became bigger than me. Around that time, I sent this beat to Eminem and Royce da 5'9 without the tag on it and I got a call from Em being like, 'Man! Are you gonna put that tag on there?!'"
From Bangladesh to the heart of Atlanta
While Bangladesh and his "A Milli" fluke may be credited with calcifying the modern beat tagging trend, other producers simultaneously began tagging as a means of establishing their names. The Atlanta­-based producer Zaytoven, best known for Migos' 2013 hit "Versace," was another early adopter of the trend.
"After my first few hits, I started realizing that people didn't really know who I was," Zaytoven explains of his mid '00s work. "I made these beats for Gucci Mane and for Jeezy, these two up-­and-­coming stars, and I just got sorta lost in the mix of all of that."
Sensing that greater name recognition would help garner new clients, Zaytoven recorded a friend saying his name, paired it with a descending piano scale and placed it on the intro of Gucci Mane's 2006 album Hard to Kill, which he executive produced. "I wanted to make something that says, 'Okay. Zaytoven did this.''" It worked. "After that, every time someone wanted to buy a beat from me, they would ask me, 'Yo, can you put the tag on this beat so people know that I got it from you?'"
More than just a name
Zaytoven explains that when a beatmaker becomes a hitmaker, their tag becomes a status symbol in it's own right, sort of like a designer label in a sweater. "You know how if you buy a Jordans, you want the Michael Jordan sign on the side to show that you paid the money for those shoes?" he chuckles. "It's the same with tags. My tag lets an artist show that, 'Hey, I paid the money for this track.'"
In the early 2010s, Mike Will Made-­It and DJ Mustard­­ inherited beat tagging­­ and brought the practice to a much wider audience when they began working with pop stars. Mustard's tag in particular, which features the rapper YG intoning the phrase, "Mustard on the beat, Ho!" became utterly ubiquitous in a run between 2012 and 2014 in which he produced twelve Billboard Hot 100 Top 40 hits, including Jeremih's "Don't Tell 'Em" and Omarion's "Post to Be," which featured the tag and similar production.
"You know how if you buy a Jordans, you want the Michael Jordan sign on the side to show that you paid the money for those shoes? It's the same with tags." — Zaytoven
In fact, Mustard's sound and his tag became so omnipresent many began to classify tracks he produced as his opposed to the track's lead artist. Producer London on Da Track, known primarily for his association with the rapper Young Thug, explains the effectiveness of tagging when employed in tandem with a popular sound. "The more they hear the tag on the radio," London explains, "the more people are ready for it. If you're consistent, it let's them know they're getting that certain quality."
Zaytoven agrees. "I think producers have now become as big as the artists," he said. "You can listen to an artist that you don't even like but because you hear that tag on the song, you're gonna give it a different chance." 
In today's hip-hop economy we're going to see a lot more of it
Another pertinent factor in the rise of beat tagging is hip hop's new economy. With album and single sales at a fraction of what they were during Timbaland and Williams' heydey and mixtape culture thriving, rappers are giving away free music an unprecedented rate. This means producers, even major ones, are often donating beats for them in turn.
"There is so much free music coming out," Zaytoven, who has executive produced mixtapes for stars like Future, explains. "So what I can get out of that is people listening and saying, 'Damn. Zaytoven is everywhere! Everytime I hear a song, I hear that tag.'"
"You never know how much money someone is actually making, but I will always choose my brand over money," London expands. "As long as my brand is at the highest potential and it's consistent, I can accumulate money no matter what."
This approach to branding appears to be the main engine behind tagging's popularity and has almost made the practice de ­rigueur for aspiring producers hoping one of their tagged beats becomes a life­-changing hit. However, this all has it's drawback. "There are some projects that are like, man, there are so many tags on his album it takes away from the project itself," Bangladesh laments. "When every song on an album or every song on the radio has some dude being like 'Ehhh!' it gets annoying!"
Bangladesh posits that, in some ways, tagging should be a privilege, not a right. "When you haven't arrived as a producer, tagging is irritating. I hate when producers who are still trying to pursue a career play me beat and they got these tags all over 'em. I'm like, 'Man, you don't even know how to produce right!'"
Still, as West's inclusion of Metro's tag illustrates, tagging is gaining acceptance, even amongst hip-hop's elite. Moreover, the crowd's reaction to Metro's tag at the Garden is a clear indicator of its' star­making potential: Average radio listeners still may not be able to pick Metro Boomin' out in a lineup, but thanks to his tag, they certainly know his work. Nothing could be more important for business. "If nobody even knows your name," London asks matter­-of-­factly, "how do they know where to find you?"
Read more: