Marine Corps Removed "Man" From 19 Titles and Men Are Feeling Emasculated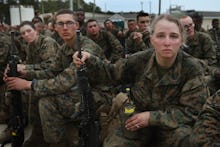 The Marine Corps is no longer composed entirely of men, and as such, 19 of its titles are no longer man-specific. Some people are none too happy about the change — and those people are men. 
As the Washington Post reported, comments on the Facebook page for Marine-satire comic strip Terminal Lance reflect a shit storm of indignation from those who weren't looking to have the strength of their masculinity tested, thank you very much.
"Are they gonna stop calling them Marines next?" one commenter wrote. Had he read the article more closely, though, he would know that many titles are being changed to include the word "Marine," rather than omit it: Going forward, "infantryman" becomes "basic infantry Marine," "infantry assault man" becomes "infantry assault Marine," "tank crewman" becomes "armor Marine," etc. 
There are exceptions — an "antitank missileman" will henceforth be known as an "antitank gunner," for example — and not every title will become gender neutral. Regardless, "field artillery operations chief" arguably sounds more senior than "field artillery operations man," so it's difficult to see why so many people are so butt hurt. 
Perhaps it's less a frustration with title alterations and more an opposition to women joining the ranks. A small but representative sampling of the comments on the Marine Corps Times' original story reflects that:
To be fair, some commenters on both pages were more reasonable, pointing out that Marines had bigger fish to fry and anyone who was going to be such a big baby about a title probably shouldn't enlist as a Marine, anyway. 
Still, while the Corps technically has to open its doors to women, the newly established physical standards for Marines largely preclude the possibility of female enrollment. Fragile masculinity lives to fight another day. 
Read more: