Access to IUDs Can Help Poor Women Break the Poverty Cycle, Says Inspiring New Study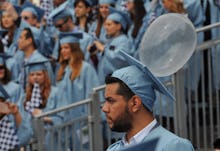 A new study by graduate students at the University of Wisconsin reveals a surprising truth about contraceptives: Apparently, if they're made cheap and accessible, they can go a long way toward reducing poverty. 
The report analyzed demographic data and public policy in Wisconsin, as well as several areas across the country where pilot programs provided local women and girls with affordable contraceptives like Intra-Uterine Devices, a birth control category also known as long-acting reversible contraceptives (LARCs). 
From Colorado to Missouri, wherever LARCs were made accessible the teen pregnancy rate dropped dramatically. For example, the birth rate for teens in the St. Louis CHOICE program dropped 58% between 2008 and 2013, compared to the overall city average of 19%.
"We weren't looking to see how it [LARCs] would affect poverty," university researcher Amanda Ward said in a phone interview. "But unintended pregnancies and poverty rates are intrinsically connected." 
The study originally aimed to explore diverse birth control methods and public policy, focusing on how they could affect families in Wisconsin, a state that spends over $5.5 million a year on public services for new mothers with unexpected pregnancies. The annual price tag jumped to $21 billion when researchers factored in postnatal healthcare and subsidized childcare. The deeper these researchers dug into the facts about unexpected pregnancy, which make up a whopping 46% of annual pregnancies in Wisconsin, the clearer it became that reproductive health is an economic issue. 
"It's tricky to talk about poverty and unexpected pregnancy. It's not that poor women are getting pregnant more," Ward explained. "It's nothing other than routine access to overall health services and contraception."
According to the report's policy brief, women who raise children resulting from unintended pregnancies are 32% more likely to require public assistance. The National Campaign to Prevent Teen and Unplanned Pregnancy estimated that 48% of mothers aged 15 to 19 lived below the poverty line from 2009 to 2010, with the vast majority requiring public assistance beyond minimal healthcare needs. 
From publicly funded health services to food stamps and local schools, every aspect of public spending was influenced by low-income families struggling after unexpected pregnancies. 
"The big take-away from our paper is...it's cheaper to avoid unexpected pregnancies and their associative costs," Ward said. Providing LARCs saves communities money in the long run because, unlike birth control pills or condoms, people don't need regular access and resources to keep it up. 
Countless studies have already proven that access to birth control allows women to receive a better education and get higher-paying jobs. But affordable contraception doesn't just influence women's earning potential. "When you support women in their choices about when to have children and how many children they want to have, you open up so many opportunities," Ward said. "It also impacts the life of the child and expands into future generations...The impact on the child's upward mobility is huge." 
Ward now believes that healthcare and sex education should be considered key components of economic policy. "Wisconsin is an abstinence-only education state. You're not doing anybody any favors by avoiding sex education," she said. "Economic barriers are something policy makers need to consider."  
Read More: 
• Good News: Teens Are Using IUDs. Bad News: They're Not Using Condoms