Khloé Kardashian Is So Not Here for Sexist Double Standards When It Comes to Dating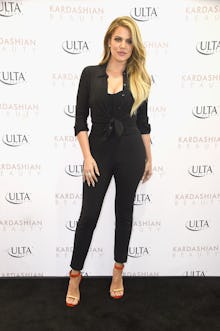 Khloé Kardashian — who recently celebrated her 32nd birthday at a neighborhood Dave & Buster's just like a boring, normal person — is not a fan of tabloid dating rumors. In fact, she finds them a lil' sexist.
In a new post on her website and app, she explained:
The most annoying thing about tabloid rumors is the double standard. If I'm "spotted" hanging with a guy at a party — even if I'm just saying hi for a quick second — it immediately becomes a negative headline about how many guys I'm dating or how I'm getting into a new relationship. Men don't get that reputation! They get a pat on the back. It irritates me.
From NFL player Odell Beckham Jr. to dick print-loving rapper the Game and now R&B singer Trey Songz, all Kardashian needs to do is stand within three feet of a dude to get the rumor mill a-churning. And then some of these tabloids — the churners of the mill in the first place — apparently have the nerve to comment on the number of men she is romantically linked to? Rude!
But you know who feels your pain, Khloé? Legendary pop songstress Christina Aguilera, who in 2002 sang: "If you look back in history, it's a common double standard of society: The guy gets all the glory the more he can score, while a girl can do the same and yet you call her a whore."
Sigh. Fourteen years later, and the rags still haven't figured it out.
Read more: