Elizabeth Warren Asked JK Rowling to Send Her to Hogwarts, This Election Is Something Else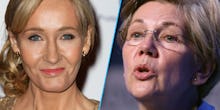 What do Lord Voldemort and Donald Trump have in common? Massachusetts Sen. Elizabeth Warren thinks that her experience combating both makes her uniquely qualified for the position of Defense Against the Dark Arts professor at Hogwarts.
Only 181 days left until Election Day, friends!
On Wednesday, the Democratic politician took to Facebook to let Harry Potter author J.K. Rowling know of her interest in the position once occupied by the likes of Severus Snape and Remus Lupin. Warren attached an informal cover letter to an article on the new details about the "Potter" universe, which the author revealed on her website, Pottermore, on Tuesday.
"Looking for a Defense Against the Dark Arts professor, J.K. Rowling? Where do I apply? Donald Trump, Death Eaters — I got this!" Warren wrote, apparently forgetting that the position of Defense Against the Dark Arts Professor is extremely cursed, and has been that way ever since Voldemort himself applied for the post.
Warren also tweeted the exchange, presumably to increase the visibility of her application in an already crowded market saturated with overqualified candidates.
Warren's comparison of Trump to He-Who-Must-Not-Be-Named is her most charitable among her recent Trump digs. During Warren and Clinton's first joint campaign speech in Cincinnati on Monday, Warren laid into Trump on a wide array of issues, calling him a "small, insecure, money-grubber who fights for no one but himself" as well as a "thin-skinned bully."
Clinton stood by and smiled as Warren, a contender for the vice presidency, delivered the polemic.
"Now, you just saw why she is considered so terrific, so formidable, because she tells it like it is," Clinton said.
No word on whether Warren furnished Clinton as a character reference. 
Read more: