Frank Ocean Fans Are Wondering if He Quit Music to Become a Doctor Because of These Photos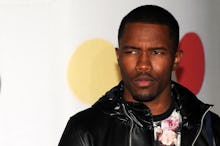 Tuesday, June 28, 2016, will not go down in history as the day Frank Ocean opened the flood gates with his long awaited second studio album. However, what it will be remembered as by his closest fans is the day the contemporary R&B singer possibly revealed he's changed professions entirely. 
A photo of Ocean in hospital scrubs surfaced online, going viral like wildfire as a world hungry for the singer's new music questioned what the hell this could possibly mean. 
Did Ocean procrastinate so hard on his forthcoming album he was sent to a hospital? Has the "Forrest Gump" singer been watching way too much Grey's Anatomy during his vacation time and felt inspired by the drama series? Is this all part of some bizarre Adele-like comeback or Beyoncé-esque release? It's not every day we hear of Ocean's whereabouts, so of course when a photo of the R&B crooner gained traction on the web, it sent everyone into a panic.
Unfortunately, the photo is over five years old. 
Ocean's snaps of him casually standing in his hospital best in front of a palm tree, are from a 2011 music video shoot for "Thinking' Bout You." The song, off Ocean's Channel Orange, was never given an official music video — though the singer did appear in the unofficial video.
To date, there are mixed signs pointing toward Ocean's highly anticipated next release. The elusive singer hasn't taken a single interview throughout the year, though he's made a few candid, and beautifully written, statements on tragedies like the Orlando mass shooting, Prince's untimely death and Donald Trump's presidential campaign. 
His producer Malay has told Pitchfork in March, "Frank's exploring different vibes completely on this album. I wouldn't say it's vocally looser but just his mentality; it doesn't seem as meticulous at certain times." 
"I always tell people: When he's ready, the world is gonna get it. It could be tomorrow... well not tomorrow but maybe a month," he added, again, in March. 
There's no hope. We need a doctor to fix this broken heart STAT.
Read more: