Syrian Refugee Finds Cash Stash Hidden in Wardrobe, Turns It Over to Germany Authorities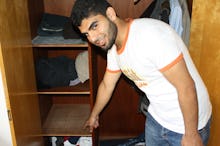 In Germany, a Syrian refugee discovered a stash of over 50,000 euros and promptly handed it over to local authorities. 
As German newspaper the Bild reported, the 25-year-old Muhannad M. found the money hidden in an old wardrobe. He could have used that money to bring his two brothers over from Syria but instead he went straight to the foreigners' registration office. 
"I'm Muslim," Muhannad told Bild. "I couldn't keep this money for myself. My religion forbids it. Allah would never allow me to finance my own interests with someone else's assets."
According to a police press release, Muhannad arrived in Germany in early October with the intention of getting his master's degree. He moved to Minden, a city near Hanover, four weeks later, where an aid agency set him up with a small apartment. It also gave him the wardrobe, in which he found the hoard of 500-euro bills while cleaning. Along with the cash, there were five bankbooks for accounts with over 100,000 euros between them. 
Before he did anything else, Muhannad verified online that the currency wasn't counterfeit. The bills were real, and because of his honesty in turning them in, he's received a small percentage of the total: 4,500 euro as a reward.
"This young man behaved in an exemplary manner and deserves huge credit," read the police press release. "That people find small sums of cash and turn them in to the police happens all the time. But such a large sum is an absolutely exceptional case."
Read more: