On 'Big Brother 18,' Bronte Says She Wants to Send Fellow Contestant "Back to Hong Kong"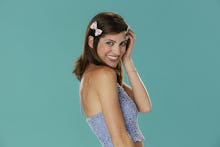 It's only been a week, and the Big Brother 18 houseguests have already caused a lot of drama. There's been fat shaming, homophobia — and now, livestream viewers are calling out racism.
Houseguest Bronte D'Acquisto said she wanted to send fellow contestant James Huling "back to Hong Kong." Twitter users have captured multiple instances of D'Acquisto complaining about Huling, calling him a "fucktard," saying she'd like to "kick his little Asian ass back to Hong Kong or wherever he came from."
Huling is from Wichita Falls, Texas. 
Viewers are already expressing their anger at D'Acquisto's comments on Twitter:
Some are even calling for D'Acquisto to lose her job because of the comments.
As upsetting as this behavior may be, these types of comments aren't uncommon on Big Brother. The show's 15th season featured one particularly controversial contestant — Aaryn Gries — who spouted many a racially loaded comment during her tenure on the show. Some on Twitter are pointing out the similarities between the two women.
D'Acquisto's comments so far have only made it to the livestream. They have yet to air on one of the CBS broadcasts.
Read more: