'Sully' Trailer: Watch Tom Hanks as Chesley Sullenberger, "Miracle on the Hudson" Pilot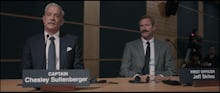 We know how Tom Hanks would fare after surviving a plane crash in Cast Away; now we know he would prevent those crashes, too. Hanks stars in Clint Eastwood's latest directorial drama, Sully, about pilot Chesley "Sully" Sullenberger who successfully landed a plane with 155 people aboard on the Hudson River in 2009, aka the Miracle on the Hudson.
While the Hudson River landing is certainly a focus for the film, the film also delves into the aftermath from the crash, as Sullenberger is investigated by the Federal Aviation Administration. Obviously, it took a proficient pilot to successfully land the plane on water, but the investigation posits that he could have brought the plane back to the airport. Sullenberger, for his part, doesn't believe there was sufficient time. 
Sullenberger also struggles to cope with being labeled a hero by the media, and the trailer also suggests the film will explore the pilot's PTSD following the crash. In short, it's another terrific character drama for Hanks, with an exhilarating landing sequence thrown into the mix. 
Check out the trailer for Sully, opening September 9, below:
Read more: