A Father Trying to Save His Son's Life From ISIS Was Killed in the Istanbul Attacks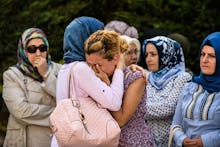 When Fathi Bayoudh's son Anouar called him seeking a way out from under the grip of the Islamic State group in Syria, he went to find him. But after Tuesday night's attacks on the Ataturk airport in Istanbul, Bayoudh's son would never see him again. 
Anouar, who had apparently become radicalized and lied to his parents about an internship in Switzerland, traveled to France, Turkey and Iraq before finally making it to the war-torn country bordering Turkey. Three months after leaving home, Anouar called his father saying he wanted to come home and that he desperately needed his help, the New York Times reported.
Bayoudh, 58, arranged to meet his wife at the Istanbul airport after learning from the Tunisian Embassy that Anouar had turned himself over to authorities near the border, the Times reported. As Bayoudh waited there inside the airport, after spending weeks in the city searching for answers about his son's whereabouts, three terrorists began unloading gunfire on unsuspecting victims and detonating suicide vests. Bayoudh was one of at least 41 people killed.
Tunisia fell into a tumultuous state after President Zine El Abidine Ben Ali was ousted in 2011 and a wave of terror spurred by ISIS and al-Qaeda in the Islamic Magreb followed in the years after. An economic collapse and other issues enveloping the North African nation led as many as 3,000 Tunisians to flock to Syria in order to join ISIS, the Soufan Group, a New York-based organization that provides intelligence services, reported.
Bayoudh "was a very generous man, lively and always very active," Leyla Njim, a friend of the family, told the New York Times. "He loved his son so much ... he would have done anything for him. He went there to bring him back."
Read more: