In an Epic Tweetstorm, Model Barbie Ferreira Sticks Up For Curvy Women Everywhere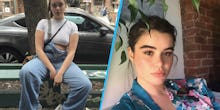 And so, the saga continues. 
As Mic reported on Wednesday, comedian Leslie Jones was having a hard time finding a designer who'd outfit her for the Ghostbusters premiere. After sending a tweet calling out the fashion world, designer Christian Siriano responded — and, in an exclusive interview with Mic, he confirmed that he will be meeting with Jones this week and likely designing her dress. 
So, everything's good now, right? Jones has her dress. The world is right once more. 
Well, not quite. 
As this Jones saga highlighted, the fashion industry still has a problem including women above a sample size, even when they're famous actresses and comedians who have a red carpet event. And 19-year-old Barbie Ferreira, who is a curve model (which means she's larger than a sample size but not quite plus size, wrote), is sick of it. 
In a number of tweets sent out to her more than 75,000 followers yesterday afternoon, just as the media was reporting on Jones' troubles, Ferreira, who's modeled for Aerie, ASOS and i-D magazine, talked about how difficult it really is to find a designer gown above a size 2, or even to find a designer who's willing to work with women above the standard sample size. 
"Bruh finding designer dresses for events when ur not a size 0,2, maybe 8 is impossible," Ferreira wrote. "Why is this? There are curvy famous actresses/people." 
"Every day I'm reminded of my body. Even if I'm excited about an event, finding someone who even wants to help me by styling is impossible." 
Because of many designers lacking any interest in dressing curvy women, Ferreira says that she and her curvy peers do not have the choice to be dressed in high-end designs. With the fashion industry shutting millions of women out, millions of women are left without an opportunity to fully embrace the fashion industry. 
"Curvy women are not allowed to be edgy, not allowed to be stylish or allowed to explore their looks like everyone else in the industry," Ferreira wrote.
And this latest episode involving a well-known comedian is all the more disconcerting. 
"So don't expect much from my designer looks in the future until people wake [the fuck] up," she wrote. 
"And hearing an actress in a huge film having similar struggles ... Girl I feel hopeless. Am I gonna have to wear Sears when I win my Oscar?" 
So, because they can't embrace the fashion industry (because the fashion industry doesn't embrace them), curvy women just have to get creative.
In an interview with the Hollywood Reporter, many stylists are actually blaming Jones for not being able to find a dress for the Ghostbusters premiere. 
"It's just pure economics," Jeanne Yang, the Hollywood Reporter's stylist, explained to THR. "People have this belief that showrooms and designers have racks and racks of clothing in all sizes. They don't."
"This is nobody's fault except Leslie's," stylist Jessica Paster told THR. "She should have known four to five months ago the date of premiere, and said, 'I'm not a sample size, I need to go to designers early or buy myself a dress.' Don't be blaming designers and saying they don't like you."
So Jones had to make the effort four to five months ago to find a dress for the premiere. Her Ghostbusters co-star Kristen Wiig? Probably not.
Later, in an Instagram that has now been deleted, Ferreira aired her grievances in full. 
"Fatphobia in the fashion industry is a brilliant actress in a huge film having stylists refusing to work for her to find a dress," Ferreira wrote. "I've had this happen to me and I hoped it would be just because of the timing or my lack of experience, but seeing this hurts my heart." 
"We do not always need to cover as much skin as you think we do," she concluded. "We should be allowed to dress as chic and risqué as any other body type. And to expect people in a business that isn't even about their bodies necessarily to fit into one mold ... Sad. Do better, fashion." 
In the comment section of Ferreira's Instagram, her fans also noted that in addition to the fact that Jones isn't a sample size, she's also a black woman in Hollywood and she's 48 years old, making her older than any of her other Ghostbusters co-stars. One of her co-stars, Melissa McCarthy, is just 45 and has also spoken openly about not being able to find dresses for red carpet events because of her size. 
But regardless of whatever is the most discriminating factor, what matters is that people are being more vocal than ever before in support of women who are left out of the fashion industry.
With the industry still struggling to fully encapsulate diversity, it's unfortunately not surprising that a woman above a sample size, who is also black and 48, is without a dress for a big premiere. 
Thankfully, Jones was smart enough to take to social media to talk about it.
Read more: