2 Months After Donald Trump Clinched the Nomination, Half of Republicans Want Someone Else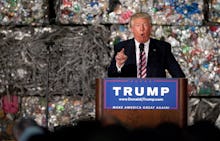 There was little positive news for presumptive Republican presidential nominee Donald Trump in a Fox News poll released Wednesday night.
Not only is the bombastic billionaire trailing presumptive Democratic nominee Hillary Clinton, 38% to 44% — a 7-point drop since the last Fox News poll in May, but more than half of GOP primary voters would rather have someone else as their nominee.
Trump's support among Republicans has also dropped since May, with 74% of Republicans saying they support him over Clinton. That figure is down from 82% last month, after he wrapped up the Republican nomination on May 3.
A whopping 83% of voters also described Trump as "obnoxious," while 89% said he is "hot headed" — two attributes not usually associated with a commander in chief.
Clinton, on the other hand, has the support of 83% of Democrats. But the poll showed she has work to do to win over supporters of Sen. Bernie Sanders — only 66% of whom said they are backing Clinton.
Eighty-two percent of voters view Clinton as "intelligent," while 77% describe her as "experienced."
But Clinton is struggling to earn voters' trust, with only 30% saying she's "honest and trustworthy."
"While our polling shows a clear positive trend for Clinton, her 6-point lead is notably small considering voters almost universally think Trump is hot-headed and obnoxious, and most think he's inexperienced," Chris Anderson, one of the conductors of the poll, told Fox News.
Read more: