'BoJack Horseman' Season 3: BoJack Struggles With Being a Legit Movie Star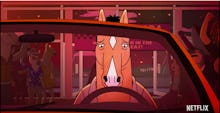 In the season three trailer for Netflix's critically acclaimed BoJack Horseman, BoJack has made the transition from washed up '90s sitcom star to an Oscar-nominated movie star (he's just riveting in Secretariat, it seems). Though, once again, this success has some caveats — and everyone's favorite human-horse hybrid is still dealing with a lot of problems in season three. 
Like the majority of season two, it appears BoJack is going to spiral back into a cycle of substance abuse and depression (this show is kind of a comedy, we promise), and it's up to his friends to try and help keep him afloat amid the rush of newfound stardom. 
"What's next for BoJack?" a walrus-human reporter asks him in a bar. "Why does everything have to have a 'next'?" he responds, which pretty much embodies the character's ongoing existential dread. So yes, it's certainly not a conventional TV comedy, but it's arguably the best original series Netflix has created. 
Watch the trailer for BoJack Horseman season three below — and get ready to binge, laugh and cry simultaneously when it returns to Netflix on July 22. 
Read more: