Gurdeep Parhar's TED Talk Explains How We Can Fight Racism in Ourselves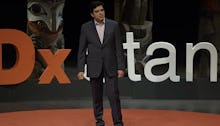 It's time to do away with racial stereotyping once and for all. 
In his powerful TED Talk, "Fixing Racism," Gurdeep Parhar, an executive associate dean at the University of British Columbia's faculty of medicine, explained why racial stereotyping is actually at the root of evil — and how we can squash it.
Racial stereotyping, noted Parhar, has been used as the logic behind mass genocides. 
Being target of racial stereotyping since he can remember, Parhar suggested three brilliant ways to fight it.
First, you must acknowledge the existence of bias and address it head-on.
If you're interacting with someone of a different race, seek out your commonalities. 
Get to know people as individuals, he said, not as members of an ethnic group.
Watch Parhar's full TED Talk below:
Read more: