Kendall Jenner Face Swaps With Willow Smith on Snapchat — And the Result Is "Wow"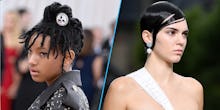 For anyone pining to know what it would look like if Kendall Jenner and Willow Smith — two beautiful models, both the spawn of celebrities — swapped faces, the wait is over.
On Wednesday, Jenner, 20, presumably bored or perhaps just inspired, posted an 8-second clip on Snapchat using the app's popular face-swapping filter. The clip features Jenner quivering her bottom lip as she contorts her neck to strike various poses.
Along with Smith's septum ring are several strands of her signature dreadlocks, mostly blurred but visibly peaking out above Jenner's eyebrows. (Perhaps thankfully for Jenner, Snapchat does not allow for comments, otherwise she likely would have been on the receiving end of some backlash.)
This comes just four days after Jenner snapped a photo with Smith's older brother, Jaden, as the pair traveled from France to London together.
Jenner was in Paris to walk (along with fellow model Bella Hadid) in the Givenchy Menswear Spring/Summer 2017 show, where she hung out with the elder Smith at the brand's after party.
Meanwhile, Willow was recently spotted on vacation with Kris Jenner in Italy's Amalfi Coast. We can only hope that this is all leading up to the pair starring in the third season of True Detective.
Read more: 
Correction: June 30, 2016