You should probably try Hooch, the app that scores you a free drink every day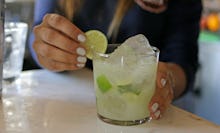 Is free your favorite price? 
Thought so. 
A new app called Hooch grants users one free drink per day at a variety of bars and restaurants... for $10. So no, it isn't completely free, but the subscription-based app is definitely a steal. 
How much you save: You can use the app for as many days as you'd like. In other words, ambitious boozers could ostensibly get 30 cocktails (if they are $12 each, that'd be a $360 value) for just $10 total. Even if you use it once, you're saving a few bucks, especially if you're in a city where mixologists charge as much as $15 for a beverage. 
Hooch is available in nine cities right now: New York City, Jersey City, Hoboken, Los Angeles, Austin, Dallas, Miami, Hong Kong and San Diego.
"A big part of Hooch is curation," Lin Dai, one of Hooch's co-founders, said by phone. Bars don't have to pay to be on the app, and Dai said his team selects a few hundred of the top bars and restaurants for each city — prioritizing good quality and excellent service. 
Bartenders typically give out free drinks every so often to bar regulars, Dai noted. Hooch is essentially a way for everyone to enjoy that "taken-care-of feeling," he said. 
Here's how it works: Members can search a database to find bars in their area. Once they select a bar, they can choose from a list of two to three cocktails. 
How can bars afford to give out free drinks? Because we barely ever have just one. Dai said it's "all about getting people in the door." Since alcohol has such a high markup, bars and restaurants can easily recoup the cost of the free drink if Hooch members order more than one cocktail. 
"Some people say it sounds too good to be true," said Dai, noting that people are usually skeptical in the beginning. But luckily, it's win-win for all involved. Customers get a free drink while restaurants get free marketing, additional traffic and the opportunity to upsell patrons after they're in the door. 
Hooch refers to itself as a "private cocktail society," but this is a misnomer: At $10 a month, the price point is pretty accessible. And it's not all about getting free drinks — the app's map makes it easy to find new bars in your 'hood. 
Drinks on the house, for less than a Sweetgreen salad? We'll cheer to that.