9 Patriotic July 4th Recipes That Take 10 Minutes or Less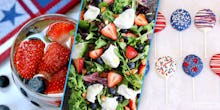 This Fourth of July, thou shall not spend much time in the kitchen.
Thou shall not waste the day anxiously watching something roast in an oven. Instead, thou shall whip up one of these fast and easy recipes — from dessert tacos to sangria to fruity appetizers.
Red, white and yum.  
9 patriotic recipes that take 10 minutes or less
1. Watermelon Feta Blackberry Skewers
Salty feta complements sweet watermelon and sour blackberries — a dessert you can manage with three ingredients and 10 minutes.
2. Red, White and Blue Sangria
Wanna booze? It's July and probably hot as hell out, so of course you do. This recipe doesn't need to sit for a long time to enhance flavors like most sangrias, so you can make it on the fly and come off like a culinary master. Cheers! 
Upgrade your bed of greens by adding burrata (soft cheese), almonds and seasonal berries. Top it with a homemade honey lemon dressing for a tart and refreshing note.
4. Summer Berry Crostini With Lemon Ricotta and Honey
Even if you can't spell hors d'oeuvres, you'll be able to whip up this simple pairing of baguette and lemon ricotta. It's fancy-looking finger food that doesn't take a lot of kitchen know-how.
Tacos for dessert? You really can have it all. A sweet crepe envelopes whipped cream and seasonal berries. These can come in handy for a DIY dessert taco bar for guests to create their own dreamy treats. 
No campfire? No problem. This kid-friendly recipe has a marshmallow spread on the grahams to help things stick together. Adding some red, white and blue candies onto the chocolate puts a nice holiday touch on these treats.  
7. Patriotic Fruit and Cheese Kebabs
Waiting for the main dish at a barbecue (or any party, really) can be tough when hunger sets in. A host can avoid starving guests for too long by serving up these skewers. 
8. Red, White and Blue Patriotic Peppermint Patties
Think homemade candies are more hassle than they're worth? This recipe requires just six ingredients, no need to buy an entire shelf of baking supplies to put them together.
Hidden inside each of these pops is a whole Oreo. Customize them with drizzles of colorful melted candy or red, white and blue sprinkles. (Note: These are quick to make, but you'll need to freeze them for a while after — how about during dinnertime?)
Read more: