Mitt Romney Can't Stand Trump or Clinton, and His Family Still Wants Him to Run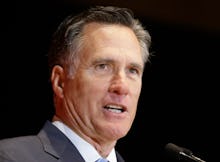 Mitt Romney, the two-time Republican presidential candidate who considered and rejected a third White House bid in 2016, is still under pressure to run again — from his kin.
"I got an email from one of my sons yesterday, saying, 'You gotta get in, Dad. You gotta get in,'" the former Massachusetts governor said Wednesday at the Aspen Ideas Festival, according to the Hill.
Not only did Romney say he's still not getting into the race, but he said he can't even bring himself to vote for either of the presumptive major-party nominees.
Romney said his "conscience" would keep him from supporting either Republican Donald Trump or Democrat Hillary Clinton.
Instead, he said he'd either write in wife Ann Romney's name, or back a third-party candidate.
Romney eviscerated Trump in a scathing speech in March, labeling him a "con man," a "phony" and a "fraud."
He said in Aspen that he believed Clinton was "not an ideal person to be president" either. But compared to Trump, to quote writer P.J. O'Rourke, at least her policy failings fall "within the normal parameters."
Romney sought the GOP nomination in 2008, losing to ultimate party pick John McCain. He then became his party's standard-bearer in 2012, falling to incumbent President Barack Obama in the general election.
After flirting with another campaign, he announced in January 2015 that he'd stay out of the race.
Romney said at the Aspen Ideas Festival he'd like to see an alternative candidate get into the contest — someone he could feel good about supporting — but has accepted the chances are weak and that Clinton or Trump will likely be the next occupant of the Oval Office.
Asked if it would help if Trump ran a more tightly controlled campaign, including forgoing his favored stream-of-consciousness style for more prepared scripts, Romney didn't blink: "No."
Read more: