Flesh-Eating Bacteria in Florida 2016 Update: Here's the Latest on Water Conditions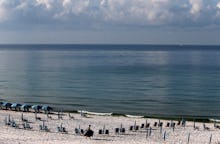 Leaders in the Florida tourism industry want you to know that there's no flesh-eating bacteria in the state's waterways, despite recent reports to the contrary.
After an Atlanta newscaster reported on Wednesday that the National Weather Service's warning of "toxic levels of a fecal bacteria" in the Florida Panhandle's waters was equivalent to flesh-eating bacteria, the state's Department of Health was forced to intervene to debunk the false report.
According to the Northwest Florida Daily News:
"What [the newscaster] is saying is incorrect," said Dr. Karen Chapman, director of the Florida Department of Health for Okaloosa County.
"Enterococci [fecal bacteria] is not the same thing as Vibrio vulnificus [flesh-eating bacteria].
"We measure for a fecal bacteria called Enterococci," she continued. "We just alert people to the fact that at the point in time we did testing, there were elevated levels of Enterococci."
So, to clarify: That's a yes to heightened levels of Enterococci, fecal matter bacteria found in the intestines of humans and animals, and no to any kind of "flesh-eating bacteria" on six Florida beaches. 
According to Channel 2 Action News chief meteorologist Glenn Burns, Fort Walton Beach, Destin, Miramar Beach, Seaside and Rosemary Beach are all currently reporting high levels of fecal bacteria, which makes it unsafe to swim in the waters with any open wounds.
Although the heightened levels of fecal bacteria have resulted in swim advisory warning signs being posted at the affected beaches, local officials say that, in general, there's no reason to be alarmed.
"The tests come and go," Ed Schroeder, director of the Okaloosa County Tourist Development Council, told the NWF Daily News. "It could be poor today but wonderful tonight. We've got over 20 miles of beaches and just one short area apparently had some concern for the Health Department."
Relax, guys! It's just a little fecal bacteria!
Read more: