Olympians Gabby Douglas and Simone Biles Slay In Stunning Dual 'Teen Vogue' Covers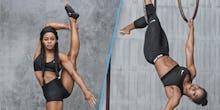 Gabby Douglas might be one of the most accomplished young people on the planet. The two-time world champion gymnast is preparing for her second Olympics after her history-making showing in London in 2012, where she won gold with her team and also in the individual all-around, the first African-American woman to do so. She's only 20 years old.
And Douglas added another accomplishment — cover model for the most recent issue of Teen Vogue alongside fellow Team USA gymnast Simone Biles. In the August issue, Douglas opened up for a pretty revealing interview, discussing her feelings about her body, her fame and her hopes for the Rio Olympics.
Biles is also an accomplished young woman of color. 
The 19-year-old is "the only female gymnast to take home all-around gold at the prestigious World Gymnastics Championships three years in a row, her 10 golds there are the most of any female gymnast in history, and her 14 medals overall are the most of any American," reports Teen Vogue.
The stunning covers are part of a move toward more representation for the magazine, which has been unique among fashion magazines in the number of women of color it has featured on the cover. Last summer, the August cover went to models of color Imaan Hammam, Lineisy Montero and Aya Jones.
Since then, Teen Vogue has featured Amandla Stenberg, Zoe Kravitz, Willow Smith and Selena Gomez on its covers. This representation is especially important considering the magazine's target demographic — young women.
In fact, Douglas' story of dealing with strangers' attacks on her body speaks to the importance of seeing women who aren't skinny, white models represented in the media. 
After Douglas' rise to fame following her wins at the London Games, "internet trolls ridiculed Gabby for everything from her body to her hair," Teen Vogue reported. "It was very tough. Sometimes I would be in the bathroom, bawling my eyes out, wanting to quit. I felt like I was all alone," Douglas said.
But it was seeing another athlete who happened to be a woman of color that helped her get through the hate. "I remember when everyone was talking about her arms, and she became very self-conscious about how muscular they were," Douglas' mother, Natalie Hawkins, told Teen Vogue. "Then Gabrielle saw the elegance with which Serena Williams handled all the negative criticism of her own body. It was liberating for my daughter to see that. She said, 'I don't have to apologize to anyone about my body. My body is beautiful.'"
Read more: