Most American Women Prefer to Get Rid of Their Pubes — And the Reason Is Depressing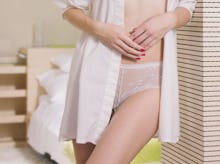 A sizable percentage of American women are trimming their hair down under — but they're doing it for all the wrong reasons, a new study reports.
Published in the journal JAMA Dermatology on Wednesday, the study estimated that 62% of American women remove all their pubic hair, with younger women significantly more likely to go bare than women over 45. The primary reason they cited for shaving off their pubic hair was "hygiene," even though there's little evidence to suggest that's actually the case. 
The study surveyed a representative sample of 3372 women across the country. The researchers found that 62% of women shaved off their pubic hair entirely, while 84% opted for other forms of down-there grooming. (Landing strip, anyone?). 
While women between the ages of 18 and 34 were more likely to shave or wax their pubic hair, the researchers found the practice is now so widespread that there was no correlation between pubic grooming habits and location, income or relationship status. 
But perhaps what's even more troubling than the prevalence of pubic hair removal is why women say they're doing it in the first place. According to the study, 59% of women who removed their pubic hair said they did it for hygienic reasons, while 31.5% said it made their genitals "more attractive." 
It's unsurprising that women are shaving their pubes for aesthetic reasons: Numerous studies have shown that porn is influencing the way women think about beauty and vaginas, and having a totally bald vulva is certainly a result of that changing social norm. Yet the fact that women think having no pubic hair is more "hygienic" is a source of concern for gynecologists, who worry their patients misunderstand the science behind pubic hair removal. 
"At least once a week I hear from a young woman that she thinks it's wrong to have pubic hair, that it's meant to be removed, " Dr. Jennifer Gutner told the New York Times. Gutner is particularly concerned about adolescent girls, who she says are increasingly coming into her office with shaved pubic hair: "Prepubertal girls have a higher incidence of irritation because they don't have that protection." 
Indeed, one urology study surveying hospital visits from 2002 to 2010 showed the number of emergency room visits caused by down-south grooming mishaps is on the rise, with women making up 56.7% of the patients. The most common injury? A laceration caused by a razor. 
Many doctors warn that removing all pubic hair can leave microscopic open wounds around irritated hair follicles, which can get infected in all kinds of ways, causing everything from staph boils to contagious infections like cellulitis, which can actually spread to sexual partners through contact. "Freshly shaved pubic areas and genitals are also more vulnerable to herpes infections due to the microscopic wounds," Dr. Emily Gibson wrote. "It follows that there may be vulnerability to spread of other STIs as well."
On the other hand, women without pubes generally avoid pubic lice, so it's not all boils and razor burn. "If it is something you do for you and makes you feel better, awesome," Gunter told the New York Times. "But don't tell yourself it's healthy or better from a medical standpoint." 
Read More: