Dame Judi Dench Just Got Her First Tattoo — At the Ripe Old Age of 81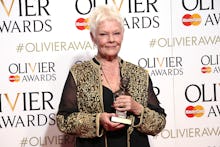 Here is an indisputable fact: Dame Judi Dench, the woman who kicked ass as M in all those James Bond movies and absolutely made you weep in Philomena, is cool as hell. This we've long known. 
But now (if you can believe this), she just got a little bit cooler. 
At the ripe old age of 81, Dench just got her first tattoo. Now, as you begin to process this badassery, think of what Dench would get a tattoo of. Maybe a flower. Maybe a butterfly. Maybe something very sad from Philomena. All of those guesses would be wrong. 
Dench's first tattoo reads "Carpe Diem," or "seize the day," and it's on the inside of her right wrist. According to the Academy Award-winning actress, it was a birthday present from her daughter, Finty. 
"That's my motto: Seize the day," Dench told the Surrey Mirror. "Finty gave it to me for my 81st birthday – she's wonderful with surprises." 
"Mind you, the company of 'A Winter's Tale,' which I was doing at the time, used to say that it said fish of the day," she added. 
The ink was first seen at the Duke of Edinburgh Award Gala across the pond earlier this month, an event that was attended by the Queen of England's husband, Prince Philip. (We're sure he loved it too.)  
In getting the tattoo, Dench joins the millions and millions of people who have tattoos across the globe, and judging from many a study, she won't regret the ink one bit, with 86% of people reportedly never regretting their tattoos. And, an even better upside: Tattoos have been known to boost self esteem for women. Although, we doubt Dench has any issue in that department.
Most recently, one of Dench's fellow British actresses, Helen Mirren, appeared with what looked like a tattoo in honor of Prince at the White House Correspondents' Dinner, but that one was a big fake. This one that Dench got is very real. 
Just goes to show you that this Dame can do nothing wrong. 
Read more: